My experience of buying from CarMax without ever visiting the dealership, and where they have room to improve
[Some up front disclaimers and info: I am not affiliated with any auto company or dealership, directly or indirectly. My employer probably owns some self driving companies somewhere along the way but I don't deal with any of them day-to-day. This article is just based on my experience buying a car in summer 2021.]
As you know from my previous post, I had a really great time buying a car in 2020 from Carvana just as the pandemic started. Unfortunately just 1 year later, due either to staff turnover, trying to expand too quickly due to increasing online sales demand, or just being a victim of their own success generally, my experience trying to buy from Carvana in summer of 2021 was nothing short of awful.
Since I was still interested in getting a like-new Kia Soul but did not want to spend a lot of time in person at a dealership, I searched around and found out CarMax also offered a touchless buying experience. I am not the kind of person who buys cars based on feel, it's entirely about features and price, and as I had rented a Soul a few years back, I knew I could purchase one without needing to sit in it beforehand. Since CarMax offers a 30 day return (versus some dealerships which offer as little as 2-3 days) I felt I had plenty of time to decide if there was some deal breaker with the car I bought. In the end, I did indeed purchase my car through CarMax, and I felt strongly enough about how good the experience was to write up an article about it.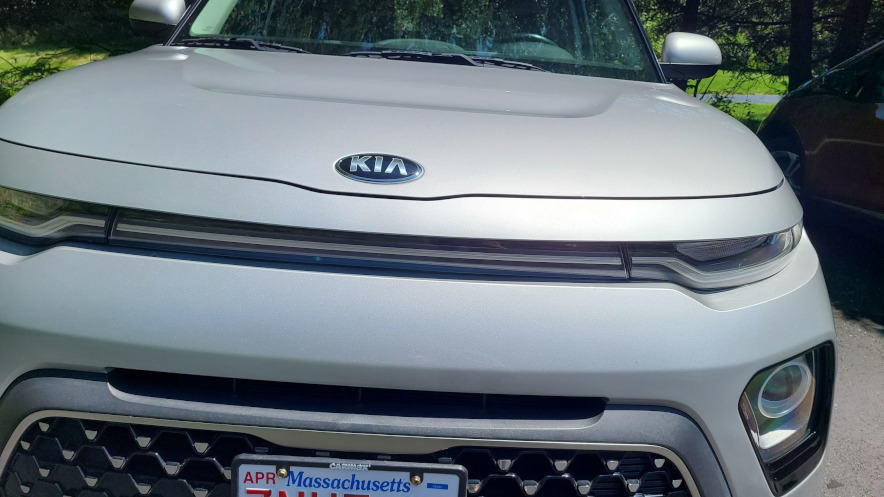 So here is my (unsorted) list of reasons of why I ended up using and enjoying my CarMax experience far more than Carvana this time around, and a few things CarMax could do to improve. This will not be an apples-to-apples comparison because of course I'm not some giant review site with dozens or hundreds of data points to compare, I'm just a guy who tried to purchase basically the same car from two different places, and because of the bad experiences of the first time, I tried to make things simpler during the second one. So take this with however big a grain of salt you feel necessary, I have good and bad things to say about both places. So without further ado…
Reasons why CarMax beat Carvana during my car purchase experience
CarMax has a better web search (and Android app) than Carvana
If you do some comparisons of cars on CarMax.com and Carvana, there are plenty of similarities: you can narrow your search by Make, Model, year, distance, etc. Carvana will allow you to search options directly in the search bar, which works well, for the most part. CarMax seems to do a much better job of letting you explicitly filter by Trim levels, as well as Features (e.g. 'heated steering wheel'), and this really makes the process a lot faster to quickly narrow down the list of cars you want to consider. Again searching for Trim level on Carvana does usually work, but I like to use filters rather than hoping the search function does the right thing.
It's not always 100% accurate mind you, but generally when I was looking for a specific feature CarMax made it much easier for me, and I did not have to pull up each car's interior 360 video view to try and confirm what the seats looked like or what buttons were and were not present on the dashboard.
I do also like that there is an option on the CarMax Android app which allows you to filter the results by 'New Arrivals'. This is great since, if you have already looked at the existing inventory, you can just select this option. Then when you later return to the app and refresh your search, you'll very quickly know whether there are any new arrivals to look through, which saves a lot of time. And as I mentioned in my previous article, the Carvana app in my experience was very buggy if you left the app running and later tried to return to it. The CarMax app did not have nearly as many issues with this.
CarMax has better inventory (most of the time) and you can test drive in person beforehand
This will depend greatly on the car you want to buy, and I highly encourage you to go to both sites. I notably found that CarMax was less willing to ship an EV (e.g. a newer Nissan Leaf) to my local site, and generally less inventory of them, versus seemingly every car on Carvana which can be shipped to you for a cost proportional to its distance from where you are. There is nothing more frustrating than finding the car you want and then finding out it's not shippable to your local store (or home).
Regardless, in my case what I was looking for was a boring old 2020 Kia Soul with an internal combustion engine, and in that case CarMax had many more cars available to pick from at the time compared to Carvana, about twice as many to be specific, once you take away 'pending purchases'. As per above, CarMax made it so I could easily filter to the Trim Level I cared about, meaning I could very quickly narrow down to a few models that I could compare against each other.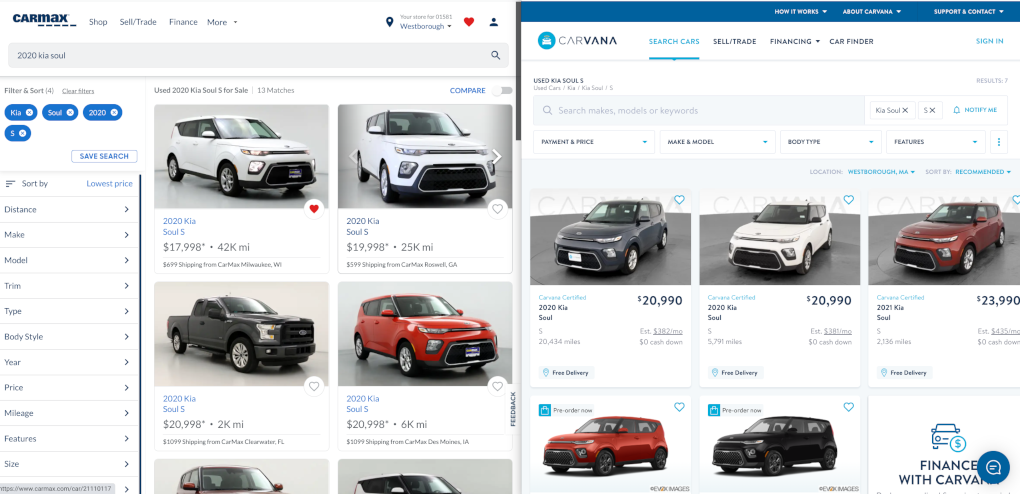 And of course, CarMax maintains actual physical locations.This means if I were on the fence at all about the purchase, I could have had the car shipped to my local site and taken it for a test drive without any further obligation, or even just try out a similar model they already had on the lot before deciding whether I wanted to continue investigating. In this case though, I wanted to have a 100% touchless experience, and CarMax did a great job of that also.
Both sites have great, fully touchless delivery options
I would say both sites have a nearly perfect touch-free experience. For CarMax I had to mention that I wanted touchless delivery two times, once when initially discussing the car I had selected on the website to the phone concierge, and once when the local CarMax sales manager asked me to come in for a test drive. Aside from this there were no issues at all with getting my car delivered without visiting the dealership. For Carvana, they make touchless delivery the default for all their interactions, so you have no worries there.
I suspect if you live in a particularly remote place (i.e. no CarMax sites anywhere nearby you) then you might get a better experience with Carvana, but that is only a suspicion. Since there is a Carmax within about 5-10 minutes of my house it's hard to measure this, but something to keep in mind.
Both places delivered my car when they said they would, and their delivery staff wore masks when they brought my car right to my driveway. Both times the staff wiped the car down, they let me sign the delivery paperwork outdoors or sitting in my new car, and aside from the paperwork I didn't need to touch anything else except the car. I was fully satisfied about this aspect of the purchase from both CarMax and Carvana, and I give both sites top marks here.
Both sites have great document handling, but CarMax has much better SMS chat
Having bought a car from each site, I can say the process of getting your documents uploaded and paperwork signed worked fairly well on both Carmax and Carvana. They will require a picture of your driver's license to verify your identity (and that you can drive the big hunk of metal and plastic!) and a PDF of your insurance binder, so they can verify you are insured and ready to be registered.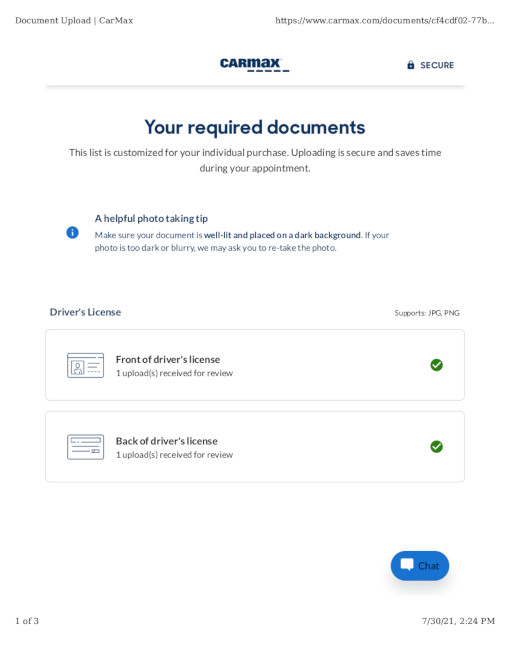 Per my previous post, I found the Carvana document signing process fairly painless, which is good since they asked me to sign the same exact document literally half a dozen times. These doc signing programs seem to work best on a mobile phone versus their website, which is a bit odd, but I do recommend signing the docs on your phone. Both places used the Plaid online service to connect to my bank and collect the funds for the deposit. Plaid is a fantastic service – unless you have some super obscure bank this should be a really painless way to get your car deposit paid.
However, one area where CarMax had a big advantage was their SMS communication. Generally speaking, when I got a text from CarMax it was from a specific person, about something specific. Ivy, my initial contact for the purchase of my car, told me what the delivery ETA was for my car arriving at the local site. Ed and Jairo from the local CarMax office let me know when my car was ready and worked out the delivery time, and told me when the documents needed to be filled out by. They also confirmed my appointment date and time again the day before, which was appreciated.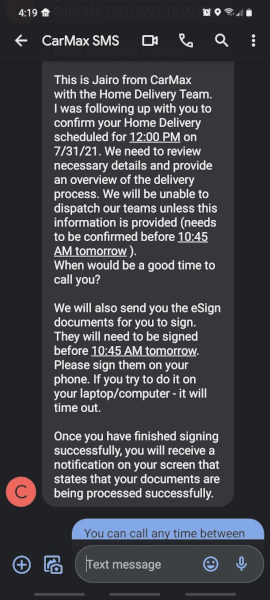 Carvana's robotic text messages were generally nothing that I could not have just received in an email, and usually amounted to "Carvana here! An adocate will be reaching out to you for additional information…" This was almost always bad news regarding something new going wrong with the process, and was usually because one of their self-imposed imminent deadlines was about to expire regarding my bank financing. By the time I got an actual human involved with the process, only to have them then ask me to re-sign my paperwork for the sixth time, at that point I had given up on them.
CarMax seemed to have better pricing
Again it's a little hard to compare my exact case writing about it now, but looking at the next trim level down, a Kia Soul at S trim level goes for between $18,000 and $23,000 with about 12 cars to choose from. For Carvana there were again fewer to pick from, just 5 with 3 of them bring 'pre-orders', and the price range was worse, going between $21,000 and $24,000. Again do your own research and compare the prices of the two sites before deciding anything.
In general you will also find the prices at both CarMax and Carvana are between a tiny bit and a non-trivial amount higher than say your local Kia dealer is offering. However, what you are getting with these sites is a no-haggle price, and at the same time you won't get a bunch of nonsense extra products thrown at you at the financing stage. No 'paint protection' or other total nonsense 'bonuses' the dealer tries to sneak into the total cost, and in particular no documentation or 'dealer fees', i.e. things you straight up shouldn't be asked to pay for, but more or less have become the norm if you don't want to spend literal hours yelling back and forth at a salesman. I am more than glad to give my money to companies who do not employ these tactics whatsoever.
Ways Carvana was better then CarMax (and things I didn't try)
There were a few ways that my CarMax experience was not as good as Carvana, I'll admit, but the list is not long so I will add them here. Everyone can always use improving, so hopefully CarMax can consider this a self improvement list. Also I'll mention ways things were not the same in my experiences between the two.
CarMax took longer to ship my car than Carvana and went dark on the delivery date for awhile. But the date also didn't slip.
Buying my car from Carvana in 2020 it took a week + a couple days from starting the process to having my car delivered. If I recall correctly the date did slip (which the second time turned out to be the penultimate dealbreaker issue), but still it came in a bit faster than CarMax. CarMax also has this 'gone silent' phase when your car is being delivered.
CarMax does set your expectations up front that it will likely be several days before they know more about your delivery date once they start shipping it, but it is admittedly nerve wracking more specifics during that ~week period that it took in my case. All told I think it was just under two weeks total from starting my CarMax purchase to it being delivered. But the date did not slip once it was established, unlike Carvana which slipped a couple days the first time, and a full week the second.
As always, your mileage may vary depending on where the car you want is located compared to your location. If anything though, the experience buying (and subsequently selling them my old car) was good enough that I would have no problem suggestion people go down to their local CarMax (if one is convenient) if you are trying to decide between a few different cars, and take one or two out for a spin, then go back home and set up the purchase online.
Carvana got my printed registration to me faster, and CarMax forgot to mention how inspection would work
This is a small thing, but I do have to hand it to Carvana. When they delivered my car to me I had the printed registration before they left my driveway. Both places gave me my plates and everything, but CarMax did take a couple hours to send my my registration via email, and the copy they sent was a little blurry, though still readable. They did also send the original document to me via regular mail a few days later, and I didn't have to nag them about it. So I don't take off much here for this, as I have heard of dealerships taking many days to get this seemingly straightforward thing figured out.
Also, CarMax did a worse job of explaining the particulars of car inspection to me, in that they didn't do it at all. When you're buying a new car, you can forget to ask about things like this and I indeed did here. I knew I could get my car inspected basically anywhere that advertised inspections, and in my state I had 7 days to do so after buying. What I didn't know was whether CarMax had their own inspection site on premesis, or if I should just go do it myself. I forgot to ask this at the time of delivery.
However when I calmed down after the joy of my deliver and asked CarMax about this by email, my local contact Selena let me know I should in fact just take care of this myself, but also they would reimburse me the cost of the inspection. This was a nice offer, though I did not take them up on it – inspections in my state are not expensive anyway. Not too big a deal again, but something I wish Carmax would have remembered to mention when I took delivery.
Carvana told me the inspection details while still standing in my driveway, and though I still had to do it myself, it was easy enough to quickly check off, and a new driver might completely forgot to ask about this and get into trouble. The Carvana delivery person even advised me to bring the car to my local mechanic for a once-over as soon as I could in case, in case they found something significant that would mean I would want to return the car, and I appreciate this level of looking out for the consumer. So again props to Carvana here.
External financing (can't compare)
After my experience with Carvana's team making my life a living hell trying to use my own financing, I decided I would not even try to use it with CarMax. For science's sake I know I should have done this and apparently CarMax does allow external financing but I did not know this at the time, so you can consider this a flaw in my comparison. But since my first experience was so bad that at that point I just wanted a car, and had planned to refinance it anyway.
A great tip I have is that everyone try to finance or at least re-finance through their credit union if you have one that you can get into; this is especially beneficial if you do end up using one of the traditional dealers who are known to require initial financing through them to get a decent price. If you have a credit union available locally that you can join, you're almost always going to get a better deal compared to even the best price from a dealer or online car site. My loan rate through CarMax even with excellent credit is 3.2%, but through my credit union it is between 1.5 and 2%.
As always if you have any questions about my article, feel free to write me about it and I will reply as time allows. I won't reply to emails asking general car buying advice though, as there are many great sites for learning about these things first hand.