The SoundPeats Mini are my daily drivers by simply being high quality and tremendous value earbuds
I surprised myself when traveling 4 hours away by plane for a family wedding. As someone who has used several types of wireless headphones (earbuds) for years, and frequently a fan of the Samsung Buds, I ended up only bringing one pair of earbuds with me after all: The SoundPeats Mini (affiliate link). But they are so good for the low cost it was basically a no-brainer: I love these earbuds.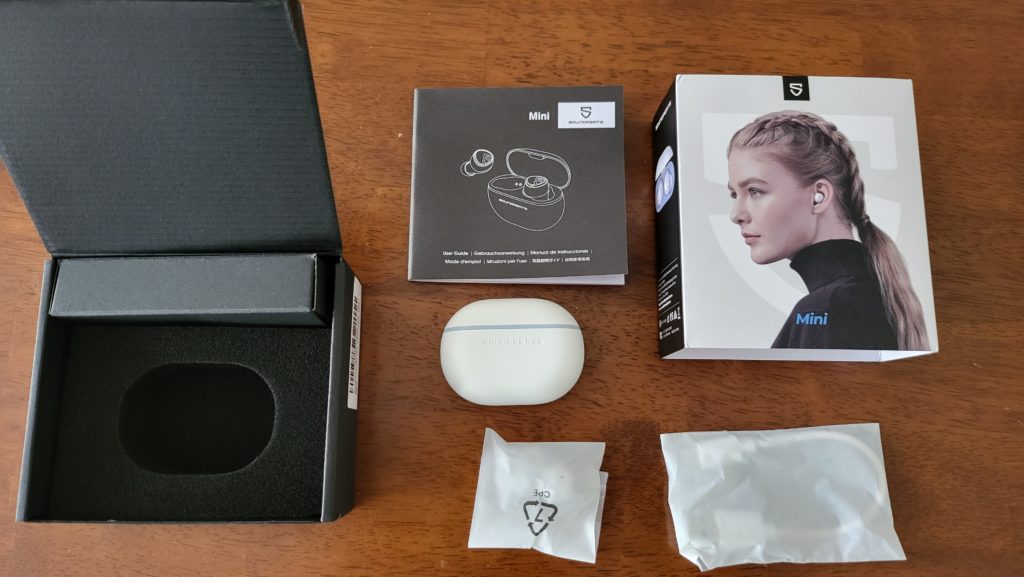 The Basics
When I first started looking for wireless buds, I did what anyone would do: I tried them all. I'm an Android aficionado, so the AirPods were off the list – though my SO and everyone who uses them seems to sing their praises, whenever I've tried them they never seem like they are not very secure in my ears. Plus Apple just ain't my think, so off to Amazon it was to look for something Android-friendly.
After trying many manufacturers you'd never heard of in a million years, I found the original SoundPeats True Wireless buds back in 2019. They had everything I wanted: good sound quality, extremely comfortable fit, above average range, and were very inexpensive. One problem: they charged via Micro-USB. Yes this is a first world problem, but we're in 2022 now. You can have a single cable which charges your laptop, tablet, phone, and earbuds if you want to, and that's just how great USB-C is.
So when I lost one of my SoundPeats while traveling, I decided to look around Amazon to see if just maybe, they had something that had as good of battery life, sound quality, range and comfort as my SoundPeats. And eventually I did find them, not surprisingly from the very same manufacturer.
In the photo above you can see what you get with the earbuds: a nice box, a (mostly useless) manual (it's Bluetooth earbuds, what do you need to know?), two small and large size rubber tips, a very short USB-A to USB-C charging cable (whyyyyyy?), the charging case and the buds themselves.
Note that the buds initially come with a small piece of tape over the charging connections. This is a nice touch to prevent them from fully draining the charging case during shipping and storage. Little touches like that are a big deal to me.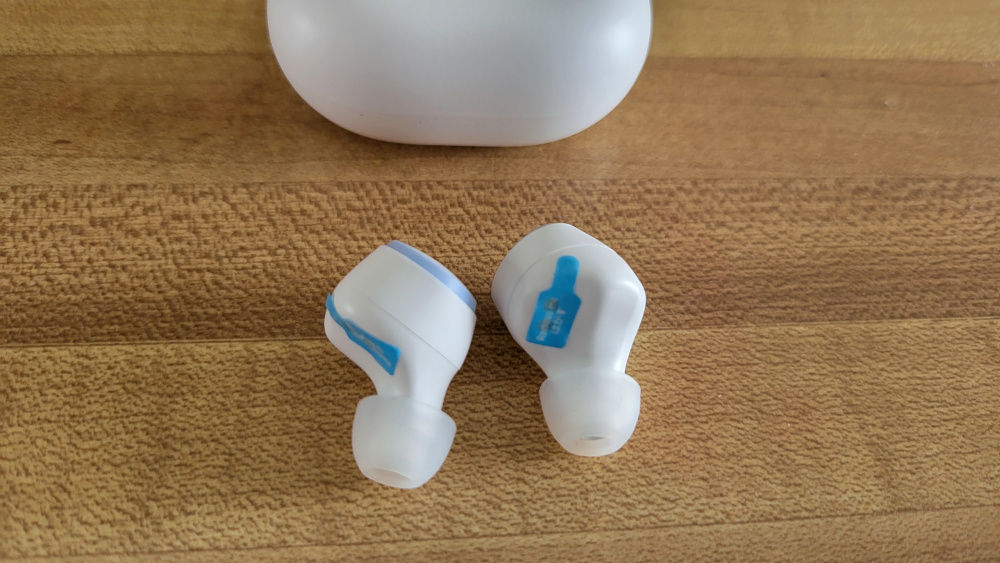 Rather than belabor my description though, let's just jump right what the good and bad are for these amazing little headphones.
The Good
Great fit
maybe it's just me, but almost any earbuds I find on Amazon that aren't $100+ headphones always feel so heavy in my ears. Often times they will have a dongle which sits outside your ear canal, and just feel heavy and uncomfortable after as little as half an hour sometimes. The SoundPeats do not have this problem at all, despite their incredible battery life. They feel good, and of course if you have especially large or small ear canals there are additional tips included.
Personally I find the large tips offer a little better noise isolation (they don't have any Active Noise Cancellation that I'm aware of, but a) the isolation is good enough for me for a decent length plane ride, and again, we're talking about less than $40 buds here.
Insanely good battery life
I have a lot of experience using the Galaxy Buds, Buds+ and Buds2. They are great sounding and fitting earbuds, make no mistake. But the battery life is just not there compared to the SoundPeats Minis. The Minis easily last me a week of streaming Youtube or game audio for 2-3 hours a night after work. I believe they claim 20 hours, and while I think that may be a tad high from my actual experience, it's not by much. I'd say it's easily 17-18 hours.
USB-C charging and power indicators – as the thing that started my search off, of course I have to call out that they are charged via USB-C. No wireless charging that I know of unfortunately, but they charge nice and fast with my laptop charger. They have an indicator on the front of the case which is hard to miss, so you know when the case is fully charged.
On the buds themselves there is a status light, when powered on it's a nice white light which is a nice change from the harsh blue light many buds have, especially in a dark room. When charging in the case of course they turn orange/red.
Price, price, price!
Did I mention how inexpensive these bad boys are? They are frequently listed well under $40, and because it's amazon, you cam frequently get them with an additional discount on top of that! At time of writitng, Amazon offers them for $36 with an additional 15% off, or effectively just under $31. At that price these earbuds are an absolute steal for what you are getting.
The Bad
There's not a lot that's bad about these earbuds to dislike, but after a lot of time with them I think the following could be improved:
Fiddly controls and shortcuts
Ok I'll just say it – the control setup isn't great. Play/pause is a double tap, and volume up/down is a single tap on the right or left earbud respectively. I tend to pause and resume playback much more often than volume, but that's me.
Also the process of shutting down the buds if you want to keep them in your ear (e.g. on a flight) probably fiddlier than necessary. Hold your finger on the bud, wait for it to disconnect from your phone or what have you, wait longer for it to fully shut down. Happily this is normally not an issue, simply throwing them back in their charger when you're done with them most of the time shuts them off as you would expect.
No wireless charging or active noise cancellation
Like I said above, there is no wireless charging on these earbuds, but I don't personally see this as a problem. Personally I'd rather have longer battery life and quick charging, which the SoundPeats do.
The Active Noise Cancellation similarly would be nice to have, but honestly I don't miss it. With over-ear headphones I can see this being more important since you don't want to have to keep pulling cans off your head to hear your work mate or doorbell. With earbuds, they are pretty easy in and out of the ears, and noise isolating earbuds offers a nice balance between reducing the volume of very annoying sounds, and letting you know there's something you need to take them out to hear.
Conclusion
As you can see, the strength of the SoundPeats Minis far outweigh. I am super pleased with these buds and heartily recommend them to anyone who needs modern (USB-C charging), good sounding, good fitting, and best of all inexpensive earbuds that you won't be afraid to throw in your travel case, or have to attach an AirTag to for fear of losing. And hey, if you don't like them, Amazon has a pretty outstanding return policy. What do you have to lose?
Disclaimers
The views expressed above are my own. I have business or personal relationship to the product or manufacturer reviewed unless otherwise noted. No person or company was given any copy approval or advanced copy of this review. If you use my links to buy an item I reviewed, I may receive a commission (and would appreciate the help!)