Is it worth getting that cereal you're always seeing on Instagram?
You have surely seen the Magic Spoon ads if you use Instagram in the slightest, especially if you've ever followed someone (or some brand) in the food industry. Their claims are bold to be sure: a very low net carb (total carbs minus protein) cereal with good taste. At $10 per box it was clearly not in the "too good to be true" category, but I was still apprehensive…
Well I did my research and it seemed like something I wanted to try, so off to the Magic Spoon website I went to get the variety pack. The ordering process was smooth, but at this point in my life I don't like giving out my credit card info to every random website. I instead use privacy.com to create virtual credit cards that I can use on any random website without worrying about my actual card number getting compromised. The website accepted my order and I used a random promo code to get free shipping. It's probably worth checking sites like retailmenot to see if there are any better promos running currently.
I was pleasantly surprised when my order which I'd placed Wednesday evening shipped the next morning, and arrived 1 day after that!
These boxes can make even a 43 year old feel like a hipster
The box arrived in good condition, and I was hungry so I tried the first 2 cereals of the 4-box Variety Pack that I'd ordered. The boxes are bright and the characters on the front are adorable and do not feel like a bunch focus-grouped corporate mascot. Here are my impressions:
It will stick to your teeth like no other cereal you've tried
I've never had any food stick to my teeth the way this stuff does. If you have dentures and hate cleaning them, this may be a deal breaker. I have regular teeth (with a couple implants) but I hate flossing, and boy did this stuff get into the gaps between my teeth like nobody's business. I've actually not tried a great deal of other 0-carb cereals recently, but this is definitely something to look out for. Not a deal breaker though IMO.
These boxes will look tiny if you're used to family-size, but there's an upside
I was a bit shocked when I opened the box and looked at the size of cereal pouch. The Magic Spoon boxes say they are 7 ounces. That's downright miniscule compared to what we normally buy, as a typical American family living the "buy in bulk and save" motto.
But the upside of this is when I pour the cereal into a bowl, I end up wanting to use a smaller amount by some visual trick to my brain, so maybe the sizing is better this way after all. As it was, I still ended up with about 1 cup of Magic Spoon in my little bowl instead of the2 cups I normally end up with.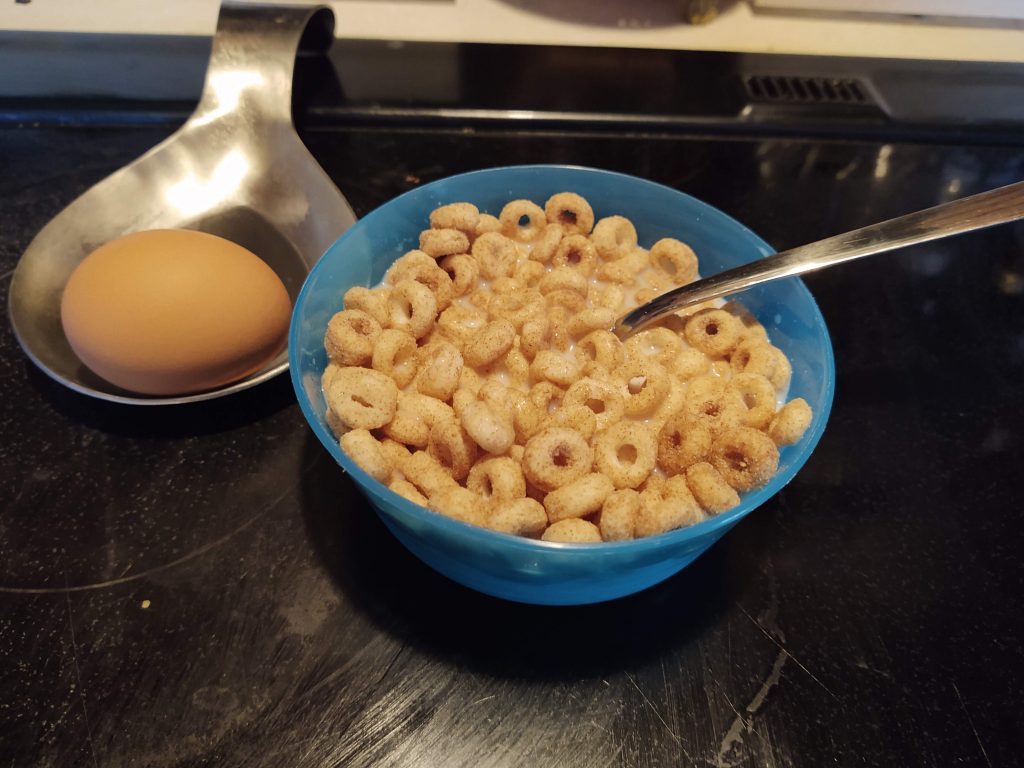 It's delicious
I tried all four flavors, and they universally tasted great and not at all like some type of 'diet' food. As a regular dude who is slowly trying to eat better and exercise but with a sweet tooth, my favorite flavors were, in order from most to least favorite:
Chocolate. Smells like Cocoa Krispies, and mostly tastes like them too. As others have mentioned, they are basically lightly chocolate coated (and not even all the way around), but it does not hurt the enjoyment of eating them.
Fruity. Smells and tastes like a berry flavor Froot Loop. Nice consistent flavor and just a nice taste from start to finish
Frosted. This really does smell and taste like a smooth version of a vanilla cake frosting, but it's very enjoyable. It wasn't too sweet for me, but someone already on a heavy diet may find it too sweet.
Cinnamon. This just tasted exactly how it sounds, like a cinnamon cereal and that's it. I do love cinnamon, but somehow the flavor seemed a bit plain. This tasted the most like a store brand knock off of another cereal.
Final verdict
I'll probably buy more Magic Spoon when our current stock runs out, but I don't know how many more after that I'll want to buy. My list of improvements which would make me a bigger fan:
I wish the amount of cereal per box was a little higher, or more preferably if the boxes were closer to 7-8$/box instead of 10. I'd be willing to wait a couple extra days to get my shipment if the price per box were lower.
Once you know what flavors you like the best, it would be really be nice to be able to order 2 boxes of 2 flavors (or 2 boxes total for that matter), instead of having to choose between 4 boxes of one flavor or the variety pack. Hopefully this will show up in more stores down the line where you can buy one box at a time.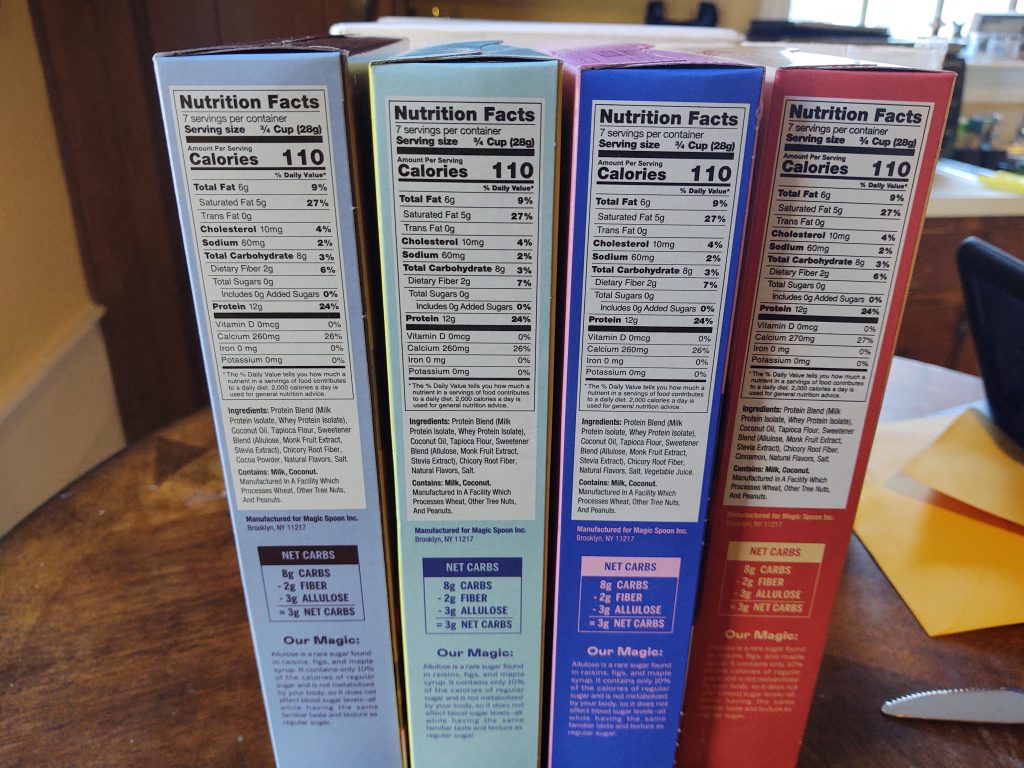 Disclaimers
My opinions are entirely my own. I wrote this review entirely by myself, no one viewed or approved this review before I put it on the site. I am not getting any revenue from the company listed in this article nor anyone on their behalf.